Who is at Fault in a T-Bone Accident in Arizona?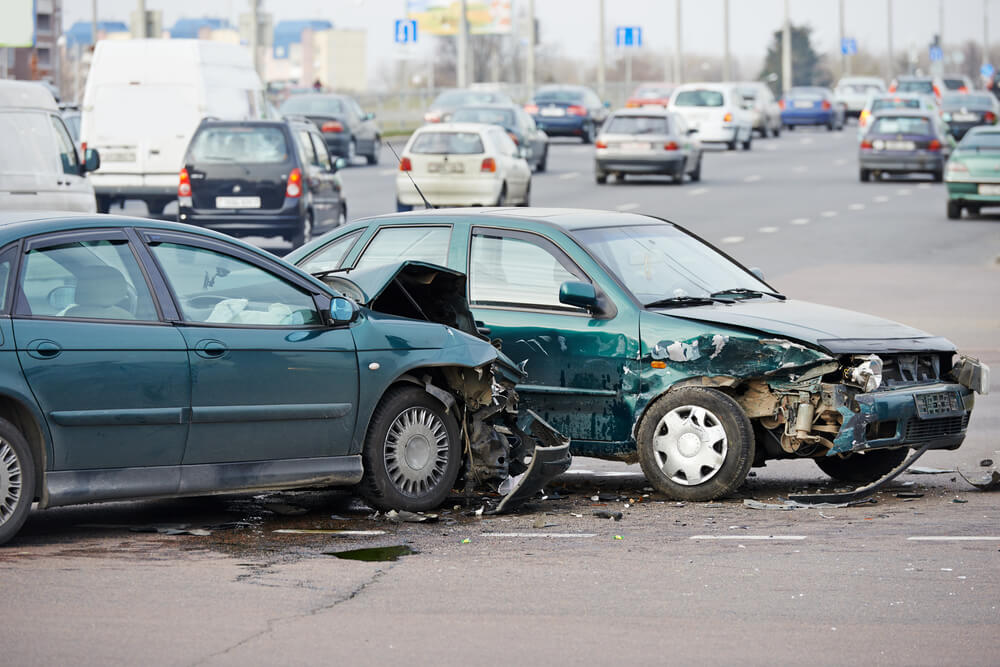 Car accidents that involve one vehicle hitting the side of another at a right angle are the most common type of fatal motor vehicle collisions in Arizona, according to the Arizona Department of Transportation's 2019 Arizona Crash Facts Summary. T-bone accidents or side-impact collisions are particularly dangerous because the sides of a vehicle offer less protection for passengers than the front and rear of a vehicle.
As with most car accidents, T-bone accidents are typically caused by driver error. In most T-bone collisions, one driver has violated the other's right of way, often at an intersection. Many T-bone accidents occur as one driver attempts a left turn and misjudges the speed of an oncoming vehicle at an intersection.
Who is at fault in a T-bone accident is important to us as car accident attorneys. People injured in accidents caused by another driver deserve to be fully compensated for their losses. The Sun City and Phoenix car accident lawyers of Mushkatel, Robbins & Becker fight every day for the injured to be justly compensated after serious accidents.
[toc]
How Do Cars Get into T-Bone Accidents?
Envisioning how a T-bone accident can happen is not difficult, particularly at an intersection where cars converge from multiple directions. As drivers attempt to turn left across one or more lanes of oncoming traffic, a driver may fail to see an oncoming vehicle or be mistaken about who has the right of way. If one vehicle violates another's right of way at an intersection, a crash is likely to occur.
In a T-bone accident, it is likely that one motorist has
run a stoplight, stop sign or yield sign and hit a passing vehicle or been broadsided by another vehicle.
Often one driver
turned left across a lane of traffic running into the side of an oncoming vehicle.
A National Highway Traffic Safety Administration (NHTSA) study of intersection accidents indicates ninety six percent (96%) of intersection crashes were caused by driver error. The most common errors cited are:
Not looking adequately before turning
Turning with an obstructed view
Illegal maneuvers such as running a light or stop sign
Distracted driving
Misjudging the distance between vehicles or the speed of an oncoming vehicle
Falsely assuming the other driver's action or intention
Traveling too fast for conditions or aggressive driving.
What Injuries are Commonly Caused by T-Bone Accidents?
In a T-bone accident, the driver or passengers in the car that is struck broadside are injured initially by the impact of the collision. They can be further injured if their bodies are thrown against the internal structure of the car or against each other. A car that has been broadsided may be pushed into traffic and hit again or pushed into guardrails or utility poles.
The driver and passengers in the car that hits the other in a T-bone crash are slammed into the internal structures of their vehicles (and/or restraints) as the car comes to an abrupt stop. Unrestrained occupants might be thrown from the vehicle.
A driver or passenger in a T-bone accident can suffer any kind of impact injury, including but not limited to:
Traumatic brain injury (TBI)
Spinal cord injury
Broken bones
Dislocated joints
Internal organ damage
Internal bleeding
Lacerations.
These types of injuries require emergency care and in many cases hospitalization and surgery. A serious TBI or spinal cord injury can cause a lifelong disability. Complications from serious injury or surgery can cause lifelong health issues.
The Insurance Institute for Highway Safety (IIHS) says side-impact crashes account for about 25% of deaths among passenger vehicle occupants in the United States. Side airbags, which are standard on most new passenger vehicles, are helpful, but strong vehicle structures designed to work well with airbags are also crucial for safety. The IIHS says most current vehicle designs earn good ratings in side crash tests simulating a T-bone accident.
How are Fault and Liability Determined in a T-Bone Accident in AZ?
To obtain compensation for serious injuries or the death of a loved one in a T-bone accident, you would need to be able to show that the other driver was at fault. This means proving the other driver:
Owed a duty of care to you
Breached their duty of care
That breach caused or was directly related to your injuries and
You suffered actual compensable damages.
Various evidence may demonstrate fault in a car crash including witness statements and the police report. The police may file charges against one driver for violations of the law such as running a traffic light or driving while impaired. Vehicle damage and the position of the vehicles at the crash scene in a T-bone crash often offer some explanation as to what happened.
In some areas of Arizona, a collision at an intersection may have been captured by a traffic camera. Though many municipalities have done away with red-light cameras, Mesa, Paradise Valley, Scottsdale and Chandler still have them. In Mesa, for example, intersection safety cameras at nineteen (19) intersections photograph red-light violations and speeding violations for straight-through traffic 24 hours a day.
At intersections without red-light cameras,  other security cameras may exist, such as at ATMs or convenience stores. Our attorneys and staff can verify whether other cameras captured the crash in which you were injured.
What Should I Do After a T-Bone Accident in Arizona?
If you were injured in a T-bone accident that someone else caused, then you should speak to an attorney. The Sun City car accident attorneys of Mushkatel, Robbins & Becker, P.L.L.C.  will review the circumstances of your accident and injuries and explain your options for seeking compensation. We offer an initial consultation at no charge to you. If we can pursue a claim for you, we will develop an accounting of all of your costs and losses and fight for maximum compensation for you.
Because Arizona car accident claims are paid according to the comparative negligence of all parties involved, it is best to have an experienced Phoenix personal injury attorney handle your claim. We can investigate your claim and fight to protect your right to the compensation you and your family deserve.
If you have been in an accident in Phoenix, Mesa, Sun City, Scottsdale, Surprise City, Glendale, Peoria or elsewhere in Arizona, call (480) 428-0992 or reach out to us online today to set up a free consultation about getting started on your case.